The Grimké Sisters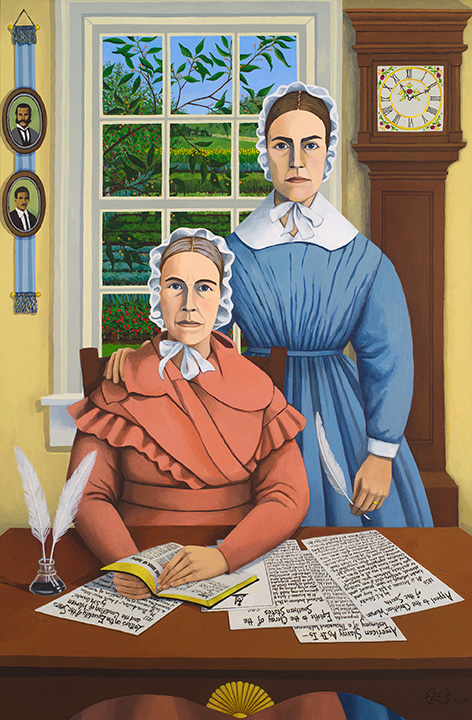 "Sarah and Angelina, the Grimké Sisters from Charleston"
Year: 2014
Size: 54″ x 36″
Medium: acrylic on canvas
Carol is mentioned in The Post and Courier article below and can be found
here
.
Grimke sisters need to be bigger part of Charleston's rich history
by Brian Hicks | October 1, 2014
Carol Ezell-Gilson says it's time for Charleston to reclaim the Grimke sisters.
And she's just the person to make sure that happens.
The sisters Sarah and Angelina Grimke were born into a prominent Charleston family at the turn of the 19th century. They didn't take to the life well, uncomfortable with the role of women in society of the day and appalled by the notion of slavery.
They would eventually become the nation's first female abolitionists and early pioneers of the women's rights movement. In the 1830′s, they published an anti-slavery pamphlet that was the most famous treatise on abolition until "Uncle Tom's Cabin" came along.
But the Grimke sisters were largely forgotten, at least until Lowcountry writer Sue Monk Kidd made Sarah the protagonist of her novel, "The Invention of Wings." Now, a lot of people are catching up to Ezell-Gilson, who first learned about the sisters 30 years ago. She first read about them when studying the book given to Charleston tour guides. There was a brief mention, but not nearly enough detail for Ezell-Gilson.
"I'd never heard of abolitionists from Charleston, especially not women," she says. "I was fascinated."
Finding their voice
Sarah Grimke was born in 1792, the sixth child of Judge John Grimke – a planter, lawyer, politician and veteran of the Revolutionary War. Her mother was the daughter of a prominent South Carolina banker.
From a young age, Sarah was frustrated by the limitations imposed on her by gender. The only thing that upset her more was the way slaves were treated. When she was given a slave girl of her very own, Sarah defied state law and taught her slave to read.
It was just the beginning of her revolt against the time.
Angelina was born 13 years after Sarah, and shared her views – and was much more vocal about it. Eventually, as adults they escaped the South and moved to Philadelphia (Sarah left first, Angelina followed 13 years later). They became Quakers, but soon found even that group stifled their beliefs too much.
In 1831, they began to read anti-slavery papers. When Angelina wrote to one publication's editor, praising his work, she found her private letter published in a subsequent issue. The sisters had found their voice.
Soon, Angelina wrote an "Appeal to Southern Women," reminding her audience that although they could not vote, they were the wives, mothers, sisters and daughters of the men who made all the decisions.
They should exert their influence, Angelina wrote, as she was trying to exert hers.
When her "Appeal" was published in 1837, copies were publicly burned in Charleston. Their mother was warned the sisters would be arrested if they ever showed their face in the Holy City.
They would never return.
Sarah and Angelina ultimately became the first female abolitionist agents in the United States, and agitated for their cause for more than a decade, speaking in parlors and churches across the country.
In 1848, they participated in the first meeting for women's rights in Seneca Falls.
They were heroes and role models to the folks who organized it.
A tour into history
The Grimke sisters may have faded from Charleston memory because all of their life's work was done after they left the city.
Or it could be because most of that work was burned outside the Custom House.
But there are still remnants of their history here. Sarah actually grew up in the Heyward-Washington house – which her family bought shortly after George Washington stayed there in 1791.
In fact, Ezell-Gilson believes it should be known as the Heyward-Washington-Grimke house.
The family eventually moved, and Angelina grew up in an East Bay house that is currently a law office.
Ezell-Gilson is currently finishing a portrait of the sisters, perhaps the first ever done, and it will be on display at the Preservation Society of Charleston during its Fall Tour of Homes.
Also, she and fellow tour guide Lee Ann Bain have put together a Grimke sisters tour that will run Thursdays through Sundays the first four weeks of October.
To book a tour, call 1-800-514-3849 or go online at thefalltours.org.
There is a lot more to this story than you can learn in a few minutes, and Ezell-Gilson is right – it's time for Charleston reclaim this important chapter of its rich history.